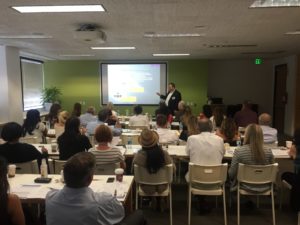 Nelson Hardiman and the American Medical Spa Association (AMSPA) hosted a successful forum this past weekend for physicians, allied health professionals, and medical spa managers. The all-day, interactive program covered a wide range of compliance and business law topics in the medi-spa and aesthetic medicine industries, including risk issues, licensing, business and financial structuring, and supervision and scope of practice for nurses, physician assistants, and medical assistants. The program also included specific guidance on OSHA, HIPAA, anti-kickback and marketing laws, and specific California regulations. Guest speakers for the event from Nelson Hardiman were: Harry Nelson, Rob Fuller, Kathryn F. Russo, and Jennifer Davis. AMSPA founder and director, Alex R. Thiersch, was also in attendance to host the workshop.
Feedback from attendees was overwhelmingly positive, including requests for auditing and compliance services for program participants. Stay tuned for more information and news on future programs!
November 14th & 15th, 2015: Executive Level Training: How to Successfully Open a Medical Spa or Provide Medical Aesthetic Services: Event Details
For more information on this topic or for questions please reach out to us at [email protected].
Download March 28th Event Handout: Download HERE
---
Posted on March 30, 2015